Proudly Serving the Trappe and Collegeville, PA Community For Over 50 Years
Dr. Geetha Srinivasan, Dr. John Foore, and our team welcome you to The Gentle Dentist, where we provide state-of-the-art family dentistry, emergency dental services, dental implants, cosmetic dentistry, Invisalign® services and conscious dental sedation in a compassionate, friendly environment.  We combine the latest dental technology with a traditional caring approach, focusing on preventative care and healthy smiles for patients of all ages.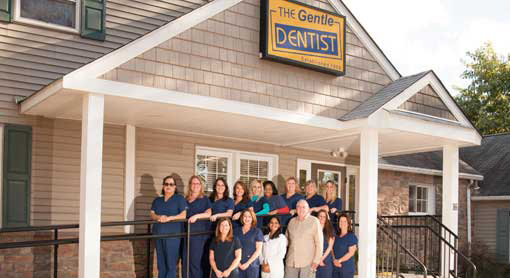 Routine Dental Care
Dental checkups, periodontal cleanings, fillings and routine dental maintenance for patients of all ages.
Emergency Services
Dr. Srinivasan and Dr. Foore are available for dental emergencies. Call 610-489-9005 for care.
Specialty Services
Invisalign®, Dental Implants and Sedation Dentistry.
Emergencies
Emergency dental care
Meet The Gentle Dentist Team
"My family and I've been going to The Gentle Dentist in Trappe for over a decade. Everyone there have one single goal which is to provide excellent care, treatments and great smiles. I've was probably a challenge patient but now at a place where I can smile and laugh confidently at social gatherings and at work. Dr. Geetha and team are always up to date in the latest technology and procedures. They are the nicest people and I can probably name everyone there but more importantly they treat me like a family."
Make an Appointment
Call 610-489-9005 to schedule your next appointment.
We look forward to seeing you soon.