Visit Our Trappe/Collegeville, PA Office
Dental Care For Patients of All Ages in the Collegeville, Trappe, PA Area
The Gentle Dentist provides caring, state-of-the-art dental care for patients of every age in the Collegeville, Trappe, PA area. We accept most major dental insurance including MetLife, Aetna, Delta Dental, Guardian, Cigna and United Concordia, and we welcome new patients. Please call 610-489-9005 to schedule your appointment.
We offer convenient appointment times including evening appointments to fit your schedule. We also provide emergency services. Please call our office for details.
New Patient Forms
Please fill in and submit the New Patient Forms before your first appointment and save time.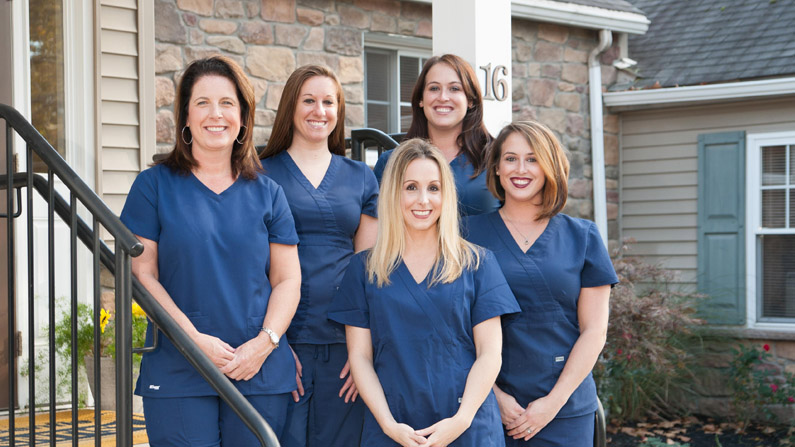 Affordable, Expert Dental Care Since 1959
The Gentle Dentist of Collegeville and Trappe, PA offers affordable, state-of-the-art dental care. Our experienced office staff is available to help you. We will work with your insurance company to provide you with an accurate estimate for dental work. We offer financing and payment plans.
Comfortable Dental Care
From routine dental checkups to restorative dental care, our well-trained team is focused on your comfort – and your smile. Dr. Geetha Srinivasan, Dr. John Foore, and the friendly Gentle Dentist team strive to provide a comfortable, stress-free dental experience. We understand a visit to the dentist can be scary for some patients, and we offer gentle, compassionate dental care. We take the time to explain our procedures and the best treatment plan for your dental health
Centrally Located in the Collegeville, Trappe PA area
610-489-9005
16 East First Avenue
Trappe, PA 19426
READ MORE REVIEWS

Make an Appointment
Call 610-489-9005 to schedule your next appointment.
We look forward to seeing you soon.