Conscious IV Dental Sedation In Collegeville and Trappe, PA Area
Dr. Geetha Srinivasan is among a select group of dentists certified by the state of Pennsylvania Board of Dentistry to administer Conscious IV dental sedation. This light sedation is ideal for patients who have fear of dental procedures or experience anxiety at the dentist.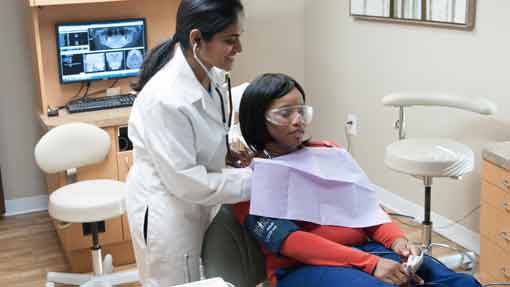 The Best Dental Sedation Options For Your Treatment
From root canals and dental implants, to easing dental fears, The Gentle Dentist, Trappe and Collegeville PA offers safe, effective pain management in a caring environment. Our team works with you to choose the best pain management option for your dental treatment, based on your health and dental needs. Please call our office for more information.
Afraid of a Visit to the Dentist?
Our team understands fear of dental procedures is common in patients of every age. Dr. Geetha Srinivasan and Dr. John Foore take the time to explain the treatment, side effects and pain management options. For patients with dental anxiety, conscious IV sedation can further ease fears.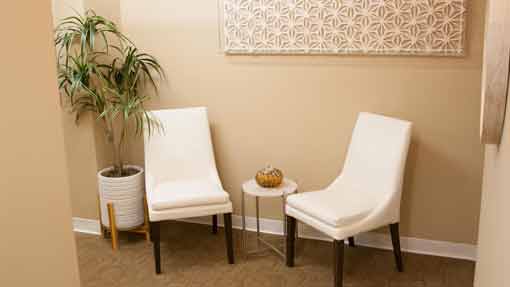 Our Trappe Gentle Dentist office is designed for a relaxing, comfortable dental care experience.
Learn More About Dental Sedation
Trappe Gentle Dentist is licensed to perform mild and moderate sedation. When deep sedation is necessary, we work closely with our anesthesiology and medical partners to coordinate your care. To help you understand dental sedation levels more, below is an overview of the levels of dental sedation. Please call our office with any questions.
Mild Sedation
Anxiolysis is the lightest form of sedation dentistry and is often used for patients with mild anxiety, longer procedures, or more complex situations. Mild sedation is usually administered orally. You remain awake or very sleepy throughout the entire procedure and are able to breathe on your own, but you will feel a great sense of relaxation. Patients typically recover from anxiolysis sedation within a few hours after the procedure is complete. Nitrous oxide inhalation (laughing gas) is another form of mild to moderate sedation that results in relaxation during treatment.
Moderate Sedation
Also referred to as Conscious Sedation or IV Sedation, moderate sedation is used for patients with moderate dental anxiety and for patients who need longer or more complex procedures. With conscious sedation, you will remain awake throughout your procedure, but will be in a deep state of relaxation. It is recommended that patients who receive conscious sedation have a parent, spouse, or friend accompany them to appointments because it can take several hours for the sedative to wear off and driving may be unsafe.
Deep Sedation
Patients receiving deep sedation go between consciousness and unconsciousness during their dental procedure. Patients often have no recollection of the treatment and are unable to respond to commands even if they are awake at times during the procedure. It is recommended that patients who receive deep sedation have a parent, spouse, or friend accompany them to appointments because it can take several hours for the sedative to wear off and driving may be unsafe.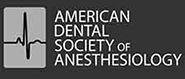 Member of the American Dental Society of Anesthesiology
Centrally Located in the Collegeville, Trappe PA area
610-489-9005
16 East First Avenue
Trappe, PA 19426
Routine Care
Periodontal Cleaning
Emergency Care
Pediatric Dentistry
Laser Dentistry
Sleep Apnea Care
Cosmetic Dentistry
Teeth Whitening
Invisalign®
Dental Implants
TMJ and TMD Care
Snoring Prevention
CT Imaging and iCat®

Make an Appointment
Call 610-489-9005 to schedule your next appointment.
We look forward to seeing you soon.